HOW THE TOOL WORKS

STAGE 1
The Gizmo product selector is dynamic so as you work from the left to right your choices will appear depending on what is available to you.
Choose what you want to create, what material to make it in, the shape and size. Lastly select how you want your stickers finished, die, kiss cut or sheets.
You will then see your price quote depending on the number of stickers you want.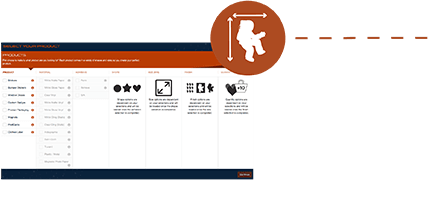 STAGE 2
This is where you can upload your art work, be it your logo, photograph or image. Our clever Gizmo Tool will tell you if the image will work and then automatically cut round it.
You can also use one of the hundreds of images and templates in the Gizmo library.
Your image will form the background of your design and in stage 3 you can add other images and text.
For our cut line technology to work the image needs to have either a white or no background. Try to use good quality high resolution images where possible as the product will look better.
STAGE 3
Now you can customise your image using our clever tools that work in the same way as standard design software. The clever bit is whatever you design can be made into your product with a click of a button.
You can add text, upload foreground images, discard the image you have uploaded but keep the shape and change the background colour.
The text tool allows different fonts, curves and spaces between letters. The text can be placed anywhere on your image by drag and drop. In fact, you can do almost anything you want to design something amazing!
STAGE 4
Once you have created your amazing design all you need to do is save and proceed to check out. You will see your design, the quantity and price just as if you were buying from any online shop.
We will store your design in your account so next time you can reorder in minutes.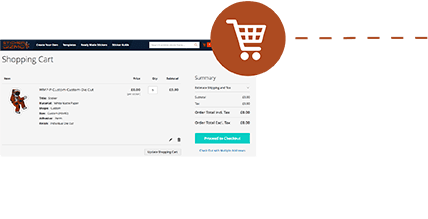 SPECIFICATIONS