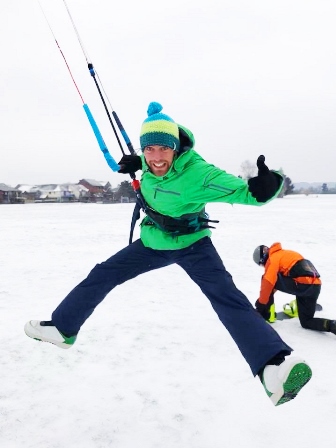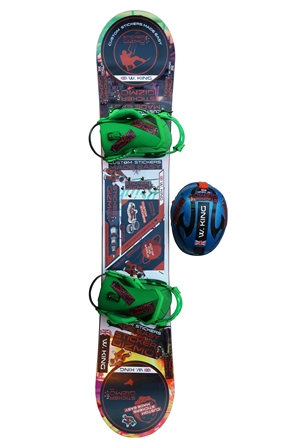 When did you start kite surfing?
I started Power Kiting at home in the New Forest using mountain boards and buggies from about the age of 8, but It wasn't until much later i really got into kitesurfing as the kit was quite expensive. I would say i fully got addicted to it when i was at University in Cumbria, kiting on the West Coast on a place called Walney Island. 10 years later i'm still hooked!
What got you interested?
The biggest appeal was the ability to jump. I was a competitive dinghy sailor, and as i progressed into higher performance, faster boats, Kite Surfing was just starting to hit the public eye. Seeing people fly through the sky was insane and i knew i had to get involved with it. The second appeal is simply the feeling of freedom. Being able to use the wind to cruise around on the water is incredible. I feel this is even more enhanced with Snowkiting. To set off from a car park and explore from one mountain or hill to another, you feel like you can go anywhere.
How often do you kite?
After University i followed my passion and travelled the world teaching Kite Surfing for many years, meaning i got to kite more than i could imagine in some of the best locations. Now settled on the South Coast of England in Poole i kite when ever i can, but obviously a lot less due to our less consistent conditions. Other things like work and life try to get in the way but i definitely can't complain. We even got some Snow Kite practice in this winter, which isn't something you see every day on the south coast of England.
What are you most excited about in the race?
The start and the finish! :P I think the spectacle of seeing 350 kites try and cross a start line at the same time will be awesome. Then i imagine several hours of gruelling muscle ache later, the finish will look pretty good too! I'm extremely competitive but there's people that train year round for this race. There's also a lot of unpredictable variables kiting in the mountains. The wind could be non existent at the bottom of a hill, and be 40mph on the top, meaning anything could happen mid race! So expectations are pretty open. I'll try my best and enjoy the whole experience.
Are we going to see lots of crashes?
Hopefully not but the odd few will be inevitable. That many kites in one place going the same direction is always a recipe for a few tangles. And then even experienced kiters may take more risks or make more mistakes as fatigue sets in. Safety is obviously key but when doing any adventure sport, the risks increase.
Is anyone going to get lost?
It's a definite possibility. The fog can set in very quickly making it difficult to see other peoples tracks and the check points. It's part of what makes it such an extreme race as you're not just dealing with going as fast as you can. Luckily it's pretty friendly and everyone watches out for each other.
What tips would you give anyone wanting to take up kite surfing?
Do it!! The biggest advice is to take some lessons with your local school. It will take 2 - 3 days to pick up the basics. It's great to learn with other people and you get to meet all the locals at your spot. It's also good to get a feel of if you're going to like it or not before committing to buying all the kit. Plus the instructors can help guide you what to spend your money on so you don't loose out. But then once you're set, it's free and you'll be addicted for life!