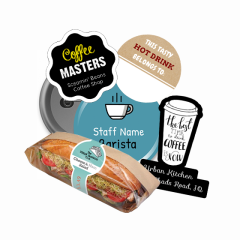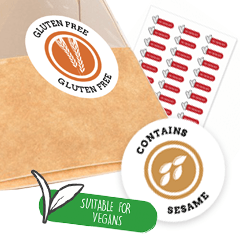 Wow, what a year it has been. We would like to take this opportunity to thank all our customers in 2018. We have really enjoyed working with you.
Many of the businesses we work with are providers of food and drink, such as coffee shops, and for them this year has been all about allergen labelling. They want their customers to be sure that they know what is in what they are eating, because it is clearly labelled on it.
We have been working with them to make sure that their food and sandwich labels have all the information they need, whilst still looking great!
Our free design service has also proved to be in much demand, with many companies recognising that expert designers really can breathe new life into how products look.
We have also started to work with a number of franchises. Understandably, they don't want all their franchisees to have to order product labelling and branding through head office, so have set up accounts on StickerGizmo.com for each of them.
In business, where cash flow is key, it is crucial that individual franchisees can make regular small orders of what they want, when they want it, handle their own invoicing and delivery, directly with us.
Thank you so much to our customers for working with us this year and we look forward to working with you in 2019.