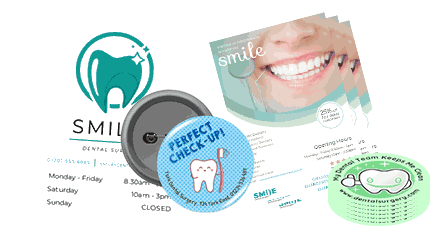 National Smile Month is the largest and longest-running campaign to promote good oral health taking place between the 13th May – 13th June 2019.
With just under two months to go, now is a great time to take a step back and look at your stickers, badges and flyers and make sure they are truly reflecting your organisation, to make sure you are ready for National Smile Month.
The aim is to encourage people to develop and maintain a healthy mouth including encouraging them to;
• Brush their teeth last thing at night and on at least one other occasion with a fluoride toothpaste.
• Cut down on how much sugary food and drink they have, and how often they have them.
• Visit their dentist regularly, as often as they recommend.
Maybe you could design some unique stickers to give to patients, reminding them to brush twice a day, or some extra special badges for kids who have been really looking after their teeth.
We have created some great flyers for dentists recently, which can be easily edited with your unique branding and messaging. Why not create some flyers warning patients about the effect of sugary food and drink on their teeth, so hopefully the message isn't forgotten about as they walk out of your door?
If you are looking for more patients why not personalise stickers with your branding to give to kids. It is a great way to raise awareness of how good you are with children, as their smile says it all.
Visit our website to see some of the many ready-made dentist designs we have already created. If you can't find what you are looking for, why not create your own designs using our Sticker Gizmo Design Tool, or get in touch and one of our in-house designers will be happy to help.
National Smile Month will hopefully get lots of people taking more care of their oral health, so make sure that you are ready to make the most of this opportunity for your business.