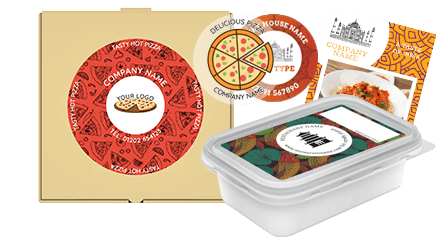 The takeaway market is huge, especially when there is so much great sport on the TV. This is a perfect opportunity, but there is also lots of competition.
You might not think how takeaway packaging looks is important, but think again. It isn't just crucial that your food tastes great, it is just as important that it looks good.
A plain box might serve the purpose of delivery, but a branded box looks so much better and more professional, and is quickly done with a simple sticker. Housemates, and colleagues, can also easily find out where that amazing food they could smell came from.
If it is important that you are able to let customers know about the allergens in your food, stickers again can help.
If your customers are not yet loyal why not include a menu, or just a sticker, with your phone number, and website, and perhaps a discount off their next meal with their order. It is something they are likely to keep safe, and might just put you at the top of their list for next time.
It is also just as important how the delivery arrives? Whether it be bike, or car, we can provide easily removable logos, to raise awareness of your brand. It might be that the nosy neighbour fancies a Chinese takeaway tonight, and if Number 10 likes the "Little Panda", maybe they should give it a try as well.
If you are thinking of updating the branding on your takeaway packaging, get in touch and find out how we can help.