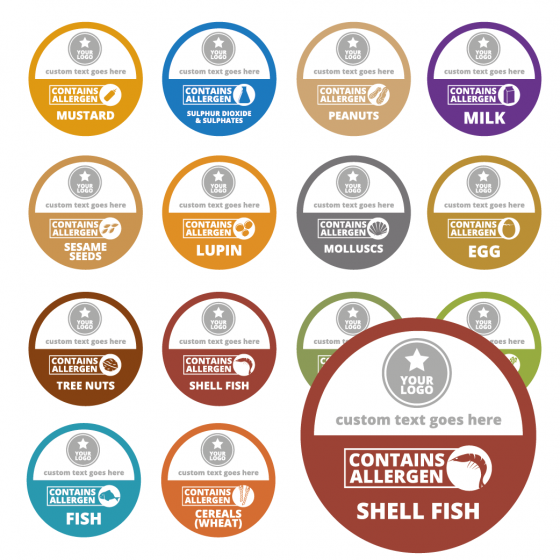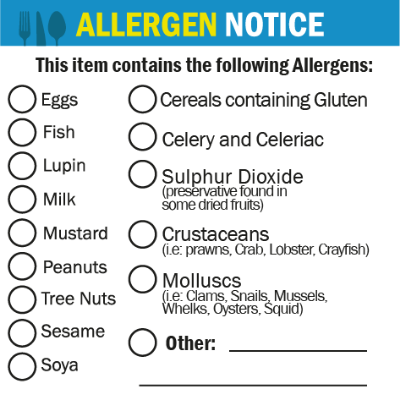 Allergy Awareness Week 2019 is taking place this week. It is a good opportunity to have a think about your business, and what you can do to make life easier for your customers with allergies.
For many of our customers this comes down to clear food labelling. Not only are there strict rules on this, many businesses work hard to ensure that all food allergens are not only listed on their products, but clearly highlighted.
There are 14 main Allergens that you must be aware of and communicate to your customers. We provide a full range of allergen labels to make labelling products quick and easy, whilst ensuring all customers are fully aware of potential allergens. Everything from peanuts and tree nuts, to crustaceans, molluscs, gluten, fish, eggs and milk. If they are in it, they need to be clearly labelled on it!
Our allergen tick-off labels shown above are great for sticking onto any product that contains allergens. The label has a tick off section for all of the 14 main allergens. There is also a space where extra information can be hand written on. These labels are printed on a white matte paper material that is easy to write on.
Our 50mm Allergen Custom Value Pack also shown above allows you to choose which allergen labels you want. All 14 allergens are listed giving you beautifully designed allergen labels which provide important information to your customers whilst looking great! This value pack is the most flexible way to buy your allergen labels at a great price.
• These labels are printed in full colour on high quality matte paper
• You can add your own text and logo to customise
• You get 30 labels per sheet
Just select the number of sheets you require for each allergen to build your custom pack. A minimum order value of £25.00 applies which is 38 sheets. After you have completed your purchase, we will contact you to complete your design. When you are happy, we will print and dispatch your order in 3 days.
If you are looking for custom food labels, why not get in touch with our design team. Our free design service can ensure your allergen labels stand out, and fully meet your brand requirements.